Buddhist site museum at Lalitgiri in Odisha
What is the News?
One of the earliest Buddhist settlements in Odisha, Lalitgiri, where excavations have yielded ancient seals and inscriptions, has been converted into a museum. Prime Minister Narendra Modi will inaugurate the museum through video conference from Bhubaneswar.
Located in Cuttack district, it will be the third site museum of the Bhubaneswar circle of the Archaeological Survey of India after Ratnagiri and Konrak.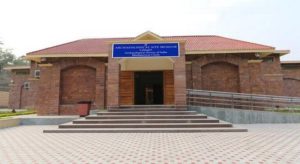 About the Museum
The museum complex is spread over 4,750 sq. m.
The building and auditorium are built over 1,310 sq. m.
The complex has been constructed at a cost of ₹10 crore.
About Lalitgiri
Lalitagiri is a major Buddhist complex in Odisha comprising major stupas, 'esoteric' Buddha images, and monasteries, one of the oldest sites in the region.
Together with the Ratnagiri and Udayagiri sites, Lalitagiri is part of Puspagiri University located on top of hills of the same names.
Buddhist triangle of Odisha – Lalitgiri, Ratnagiri, Udayagiri which are hills filled with ancient archaeological sites.
The three complexes are known as the "Diamond Triangle", significant finds at this complex include Buddha's relics and tantric Buddhism was practiced at this site.
Excavations at Lalitgiri have yielded the remains of four monasteries, showing cultural continuity from the post-Mauryan period till the 13th century CE.
In 1937, the site was officially declared a protected monument by the central government.
In 1985, the Archaeological Survey of India (ASI) started excavation at Lalitgiri to locate Pushpagiri, an important Buddhist site mentioned in the writings of the Chinese traveler Xuanzang.
The centre of attraction is a relic casket containing corporal remains found inside the Mahastupta.