China-Pakistan Economic Corridor (CPEC)
What is the News?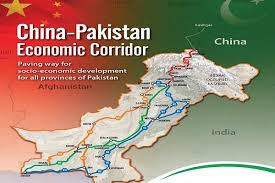 Pakistan has said that the China-Pakistan Economic Corridor (CPEC) is a bilateral economic project and has no military dimensions.
A US media report alleged that China has hatched a secret plan to build fighter jets and other military hardware in Pakistan as part of the $60 billion project.
About CPEC
China-Pakistan Economic Corridor is a collection of infrastructure projects that are currently under construction throughout Pakistan.
CPEC is intended to rapidly modernize Pakistani infrastructure and strengthen its economy by the construction of modern transportation networks, numerous energy projects, and special economic zones.
The CPEC, which connects Gwadar Port in Balochistan with China's Xinjiang province, is the flagship project of Chinese President Xi Jinping's ambitious Belt and Road Initiative (BRI).
CPEC eventually aims at linking the city of Gwadar in South Western Pakistan to China's North Western region Xinjiang through a vast network of highways and railways.
The proposed project will be financed by heavily-subsidised loans, that will be disbursed to the Government of Pakistan by Chinese banking giants such as Exim Bank of China, China Development Bank, and the Industrial and Commercial Bank of China.
Why is India concerned?
It passes through PoK and any Indian participation would inextricably be linked to the country's legitimate claims on PoK.
It is widely believed that upon CPEC's fruition, an extensive Chinese presence will undermine India's influence in the Indian Ocean.
If CPEC was able to successfully transform the Pakistan economy that could be a "red rag" for India which will remain at the receiving end of a wealthier and stronger Pakistan.
India shares a great deal of trust deficit with China and Pakistan and has a history of conflict with both.
As a result, even though suggestions to re-approach the project pragmatically have been made, no advocate has overruled the principle strands of contention that continue to mar India's equations with China and Pakistan.