FDI Policy on E-commerce
What is the News?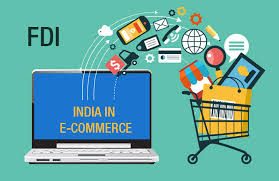 Department of Industrial Policy &Promotion(DIPP) recently issued a clarification to the existing rules pertaining to Foreign Direct Investment in e-commerce companies.
The updated norms for foreign direct investment in ecommerce will not impact the stability and predictability of the country's regulatory environment, defending changes seen disrupting the current state of online retail.
Its Main Features
The main features of the clarification include the provision that vendors that have any stake owned by an e-commerce company cannot sell their products on that e-commerce company's portal.
Any vendor who purchases 25% or more of its inventory from an e-commerce group company will be considered to be controlled by that e-commerce company, and thereby barred from selling on its portal.
The provision seeks to deny control by the marketplace entity over vendors.
Another provision says the e-commerce firm will not be allowed to influence the price of a product sold on its portal by giving incentives to particular vendors.
What is the context for these changes?
E-commerce companies can operate under two different models in India which are Marketplace model and Inventory based model.
Marketplace model
In marketplace model the e-commerce firm simply acts as a platform that connects buyers and sellers.
FDI is allowed in e-commerce companies in this model.
Inventory based model
In inventory-based model the inventory of goods sold on the portal is owned or controlled by the e-commerce company.
FDI is not allowed under this model.
It's Significance
The large e-commerce companies such as Amazon Inc. and FlipKart, while not owning inventory themselves, have been providing a platform for their group companies such as CloudTail and WS Retail respectively.
The new set up will ensure a level playing field for all vendors looking to sell on the e-commerce portals.
The new norms aim to tackle the anti-competitive behaviour by e-commerce entities and to ensure that there is no wrong subsidisation and the marketplace remains neutral to all vendors.
By: Sai Eswar