How to Prepare UPSC Anthropology Optional Subject 2019
Anthropology is popular optional subject among UPSC aspirants because it is considered scoring and also, its syllabus is relatively less. It is also helpful for science students as it is a perfect combination of science and social science. It has certain elements of biology and anatomy. It also includes social topics in it. As an administrator, some knowledge of anthropology is also helpful.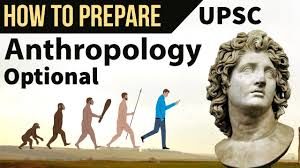 Know your UPSC Civil Services Exam syllabus
Prepare a Study plan
Prepare own Preparation Notes
Practice Previous Question Papers
Practice few Mock Test Papers
Why Anthropology optional?
The syllabus of Anthropology optional for civil services Mains exam is short and aspirants can manage it easily.
Students with any other science background can also opt for this subject as the elements of science in anthropology can make it easier to grasp.
This subject contains both biological and social topics. The biology-related topics like in physical anthropology are scoring as they are not subjective.
Step 1: Know UPSC Anthropology syllabus
The Paper I of Anthropology based on General studies and Physical Archaeology.
Paper II of Anthropology optional deals with the technical concepts such as Linguistic and religious minorities, Panchayati Raj, tribal topics, SC, ST & OBCs, ethnicity, and impact of major religions on tribal societies.
Check– UPSC Anthropology Syllabus 2019 – IAS Mains Optional Subjects
Step 2: Select Best Reference Books for UPSC Anthropology
To prepare UPSC Anthropology Optional Subject, UPSC aspirants should prepare some reference books.
Recommended books for Anthropology:
Outlines of Physical Anthropology – B.M.Das
An Introduction to Social Anthropology – Majumdar & Madan
Indian anthropology – R.N.Sharma
Indian Anthropology – Nadeem Hasnain (Good source of case studies)
An Introduction to Social Anthropology – Makhan Jha

Internet and Newspapers for current events.
Step 3: Prepare a Study Plan
Step 4: Prepare 

Important Topics 

UPSC Anthropology 
Anthropology Paper I and Paper II Important Topics
Holism
Linguistic anthropology
Relevance of anthropology
Branches of anthropology, various dating techniques
Paleolithic, Neolithic, Chalcolithic, Cultures
Neolithic revolution
Copper bronze age
Culture, civilization
Society
Marriage
Family
Language, culture and communication
Research methodology – genealogical method, observation, techniques of data interpretation, fieldwork significance in anthropology
Tribal topics
As you know the marks of the optional paper is crucial to decide your ranking in the final list, you to have to perform exceptionally well in the paper of your choice. Since the rest of the papers are compulsory for all, its only the optional paper that can make or break your fortune. So don't try to do selective reading and gamble, as there is only one optional paper now.
Final Step: Prepare UPSC Anthropology Previous QuestionPapers & Do Practice papers
Who should opt for Anthropology?
If you have a genuine interest in this subject, you should definitely go for this optional. A good understanding of anthropology also helps you in your Ethics and Essay paper. Social anthropology concepts like marriage, family, kinship, political organization, etc., He/She may score well in Paper I which is like general studies but Paper II becomes the eliminating factor if it is not covered exhaustively.
How much time does it take to prepare?
4-5 months, if you study Anthropology 12-15 hours per week. This should be enough. Also, it depends on how much can you recall your graduation concepts.
Ideally, aspirants need 4-5 months to complete the optional subject solely. Here we are giving best suitable strategies for Anthropology optional for UPSC IAS Mains exam.
Aspirants should have an exhaustive knowledge about the syllabus of Anthropology optional.
Candidates should know the basic concept of Anthropology to tackle Paper II.
Make short notes, flowchart and diagram will preparing. These short notes will help in revision time.
Aspirants should guarantee that they are emphasizing on sustainability and economic dimensions also.
Aspirants opting agriculture as their option should update the up-to-date data taken from the Government reports annual report of Anthropology that follows the government implementation of ethical rules.
The essential part of UPSC IAS Exam preparation is solving the previous year UPSC Mains questions papers. For Anthropology also aspirants should go through the Previous year question paper to extract an idea about exam pattern, trends etc.
This article titled "How to Prepare UPSC Anthropology Optional subject 2019 – Study Strategy – Suggested by Toppers " gives the detailed information about the tips for the preparation of the UPSC 2019 Exam.