Kartarpur Corridor
What is the news?
Punjab Chief Minister Amarinder Singh has written to the Centre to finalise the infrastructure to be built around the Kartarpur Corridor to ensure its early operationalisation.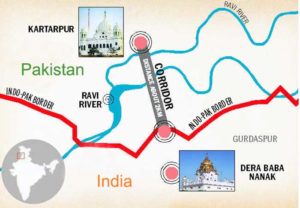 About the Corridor
Kartarpur Sahib, the gurdwara in Kartarpur stands on the bank of River Ravi, about 120 km northeast of Lahore.
Kartarpur Sahib is revered as Guru Nanak's final resting place.
It was here that Guru Nanak assembled a Sikh community and lived for 18 years until his death in 1539.
Kartapur Corridor is a long-standing demand from the Sikh community for easy access to the revered shrine across the border.
The Kartarpur corridor was first proposed in 1999 when PM Atal Bihari Vajpayee took a bus ride to Lahore.
It is now conceived as a visa-free corridor for Sikhs from India to Pakistan's Kartarpur Sahib.
It comes at the time of the start of 550th birth anniversary year of Guru Nanak.
It will be developed from Dera Baba Nanak village in Gurdaspur, Punjab to Gurdwara Darbar Sahib, Kartarpur.
The length of the corridor is about 4 km, 2 km on either side of the International Border.
About Guru Nanak
He was the founder of Sikhism.
He was the first of the ten Sikh Gurus.
Guru Nanak's words are registered in the form of 974 poetic hymns in the holy text of Sikhism, the Guru Granth Sahib, with some of the major prayers being the Japji Sahib, the Asa di Varand the Sidh-Ghost.