What is the news?
Going ahead with a people-oriented diplomacy, Pakistan has issued a large number of visas for Indian pilgrims who are expected to visit the famed Shiva temple at Katas Raj Dham, near the city of Lahore.
What is Katas Raj Complex?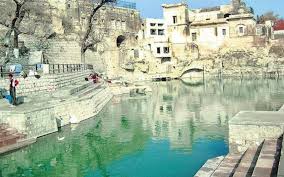 The name of the temple complex is believed to be derived from the Sanskrit word kataksha, meaning "tearful eyes."
The Katas Raj Temples also known as Qila Katas are several Hindu temples connected to one another by walkways.
The temples form a complex surrounding a pond named Katas which is regarded as sacred by Hindus.
The complex is located in the Potohar Plateau region of Pakistan's Punjab province.
The temples are located near the town of Kallar Kahar, and are near the M2 Motorway.
The temples' pond is said in the Puranas to have been created from the teardrops of Shiva, after he wandered the Earth inconsolable after the death of his wife Sati.
Buddhist links to Katas Raj Complex
The temple complex consisting of seven shrines, is located around the Katas lake, considered sacred by pilgrims of multiple faiths.
Apart from the temples, the area is renowned for its Buddhist remains and architecture.
Relation with Hindu Epics
The temples play a role in the Hindu epic poem, the Mahābhārata, where the temples are traditionally believed to have been the site where the Pandava brothers spent a significant portion of their exile.
Another tradition states that the Hindu deity Krishna laid the foundation of the temple, and established a hand-made shivling in it.