Lateral Entry into Bureaucracy
HOT ISSUES FOR MAINSTOPIC #4)(SecureIas Initiative)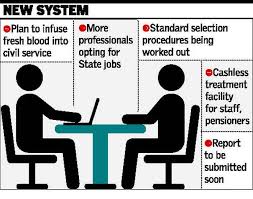 The first Administrative Reforms Commission (ARC) had pointed out the need for specialization as far back as in 1965.
The YK algah committee, Surinder Nath Committee and the Hota Committee followed suit in 2003 and 2004, respectively.
Govt for the first time has recently created 10 posts at joint secy levels and 3 years contract (extendable up to 5 years based upon performance) to be appointed directly from the people who have never taken UPSC exam.
Benefits = utilization of domain knowledge and expert talent from private sector which is now a critical requirement in 'modern' governance + IAS selected by UPSC are generalists + private sector possess good managerial talent and are target oriented and hence could bring more efficiency and effectiveness + To "bring in fresh ideas and new approaches to governance" + can diminish lethargic attitude and induce competition in the civil service(same as moving from government controlled economy to market based economy) + Recruitment of IAS at very young age doesnt test their decision making capabilities + This has been successful in RBI,PC and current NITI Aayog as well
Issues = Who should do the selection (If UPSC,which is constitutionally mandated body then agreeable) + Issue of transparency in selection process + Issue of making appointments politically neutral(should not promote spoils system) + bypassing the constitution + appointed people can benefit the private sector through their posts + 3 year appointment period doesn't guarantee seriousness as one would see this period too less to make opportunity in this field + companies approach is of profit which is not of government(Differences in work culture ) + undermines reservation policy + domain knowledge of a person doesn't insure his field experience + It is unclear on issue of reservation in lateral entry
The idea of lateral entry has worked worked well in the past where well known public servants like Manmohan singh,vijay kelkar have contributed to the country so govt should consider lateral entry into the entities where domain expertise is seriously required(like finance ministry,space,S&T) while in other entities the solution lies in more rigorous performance appraisal and improved personnel management of the existing personnel
Other reforms = Set up public administration universities for aspiring and serving civil servants to gain more knowledge about country's political situations,attain more managerial skills etc + Deputation of civil servant to Private Sector to gain more domain knowledge + Central Civil Services Authority ,as recommended by 2nd ARC should be constituted to take decisions on the posts on which lateral entry is to be allowed + Appraisal mechanisms such as government's new "360 degree" performance appraisal mechanism where feedback from all seniors and juniors are taken to grade a bureaucrat + In the long term govt should consider training current bureaucrats in particular domain till the age of 40 years after which they will become domain expert and will reduce the need of lateral entry in future.
By Sugam