Pradhan Mantri Jan Arogya Yojana and NPCBV
What is the News?
India has the oldest government blindness control programme in the world, and till a few years back, cataract (cataract is a dense, cloudy area that forms in the lens of the eye) surgeries were the primary focus of the National Programme for Control of Blindness and Visual Impairment (NPCBVI).
The fact that cataract surgeries top the list of procedures under the newly launched Pradhan Mantri Jan Arogya Yojana (PMJAY) highlights the unmet need for cataract surgeries in India despite a government programme doing it for free since 1976.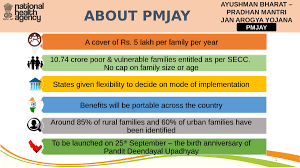 About Pradhan Mantri Jan Arogya Yojana (PMJAY)
It is government-sponsored health insurance scheme.
It will provide free coverage of up to 5 lakh per family per year in any government or empanelled private hospitals all over India.
It will cover beneficiaries families identified on the basis of Socio Economic Caste Survey (SECC) 2011 in 444 districts of 30 states/Union Territories.
National Health Agency (NHA) is the apex body for implementing this scheme.
States will be required to form State Health Agency (SHA) to implement scheme and at the district level also structure for its implementation will be set up.
It will be funded with 60% contribution from Centre and remaining from the states.
There will be no cap on family size and age under this scheme.
The benefit cover under it also includes pre and post-hospitalization expenses.
PMJAY allows national portability i.e. resident of any part of country is entitled for free hospitalization at empanelled hospital anywhere in the country.
ID documentation required for verifying beneficiary under this scheme may be Aadhaar card or election ID card or ration card and Aadhaar is not mandatory.
What is NPCBVI?
National Programme for Control of Blindness & Visual Impairment (NPCBVI)
It was launched in the year 1976 as a 100% Centrally Sponsored scheme with the goal to reduce the prevalence of blindness from 1.4% to 0.3%.
Some Objectives of NPCBVI
To reduce the backlog of blindness through identification and treatment of blind at primary, secondary and tertiary levels based on assessment of the overall burden of visual impairment in the country.
Develop and strengthen the strategy of NPCBVI for "Eye Health" and prevention of visual impairment through provision of comprehensive eye care services and quality service delivery.