River Information System (RIS) & Hilsa Fish
What is the News?
To boost cargo movement on Ganga, Union Minister Nitin Gadkari will inaugurate the second phase of river information system (RIS) between Farakka and Patna.
Under the Jal Marg Vikas Project a new state of the art navigational Lock on NW-1 is being constructed at Farakka at a cost of Rs 361.35 crore and work will be complete by June 2019.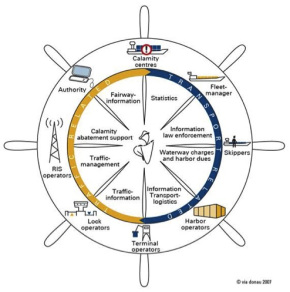 River Information System (RIS)
RIS is a form of vessel traffic management using next generation technology.
It is a combination of tracking and meteorological equipment with specialized software designed to optimize traffic and transport processes in inland navigation.
The system enables swift electronic data transfer between mobile vessels and shore (base stations) through advance and real-time exchange of information so as to ensure navigation safety in inland waterways.
It also provides virtual navigational aids to guide the vessel during navigation.
Under Jal Marg Vikas Pariyojana, a fish pass has been envisaged for the free movement of Hilsa at Farakka Navigation Lock.
What is Fish way?
Fish pass/Fish way is a structure on or around artificial and natural barriers (such as dams, locks and waterfalls) to facilitate natural fish migration.
Most fishways enable fish to pass around the barriers by swimming into the waters on the other side.
About Hilsa Fish
Hilsa has a history of migrating to Allahabad in the Ganga river system from Bangladesh.
It is Bangladesh's national fish and was called Matsyaraja – the king of fishes.
Though it's a saltwater fish, it migrates to sweet waters of the Ganges from the Bay of Bengal.
It travels upstream of the river during the mating seasons and returns to its natural abode after spawning.