Tebhaga Movement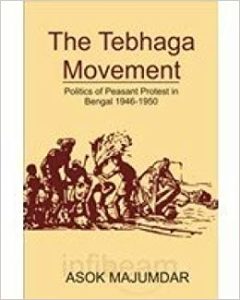 Tebhaga literally means 'three shares' of harvests.
The Tebhaga movement was the sharecroppers (tenants)' movement
Tenants were demanding two thirds of the produce from land for themselves and one third for the landlords. Basically from this principle demand the name 'Tebhaga' movement comes.
It was a militant campaign initiated in Bengal by the Kisan Sabha (peasants front of 

Communist

 Party of India) in 1946-47.
At that time share-cropping peasants had to give half of their harvest to the owners of the land. The demand of the Tebhaga

 (sharing by thirds) movement was to reduce the share given to landlords to one third.

As a response to the agitations, the then Muslim League ministry in the province launched the Bargadari Act, which provided that the share of the harvest given to the landlords would be limited to one third of the total. But the law was not fully implemented.
The main slogan of the movemnt was – " nij kamare dhan tolo".
 There was large-scale participation of women in movement.
The landless and poor peasant women formed fighting troops called Nari Bahini and took a front rank role in defending the gains of the movement and in countering the repression of the state